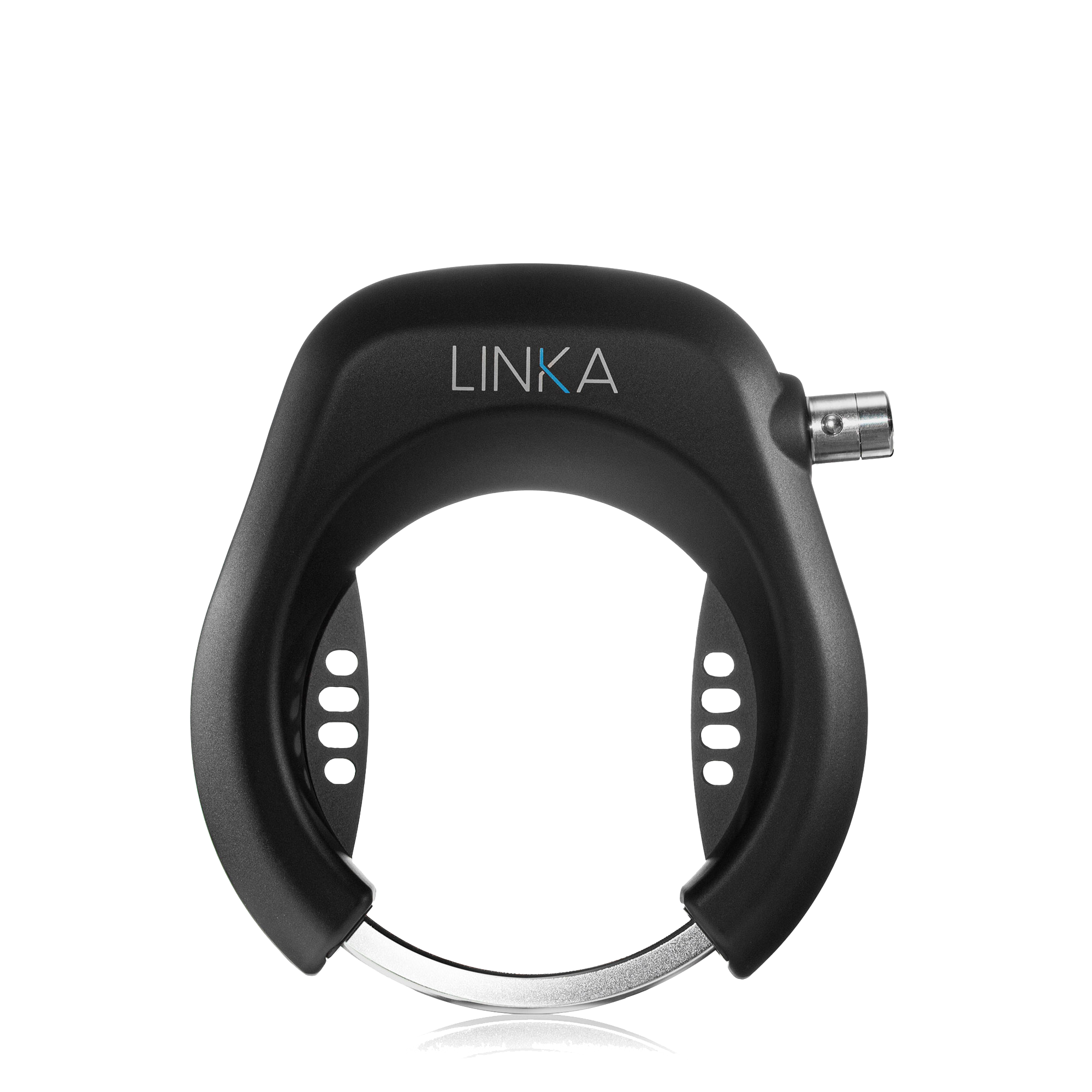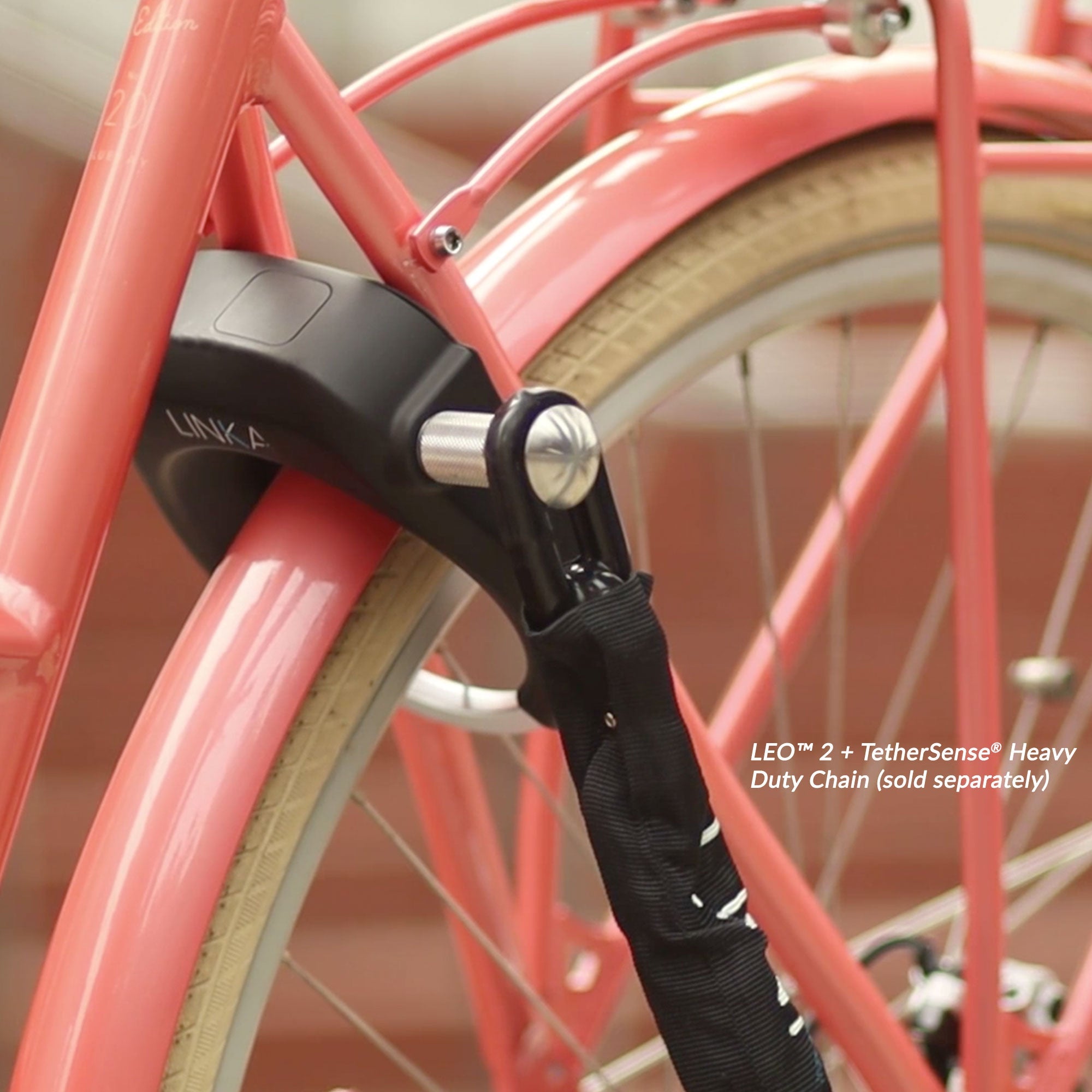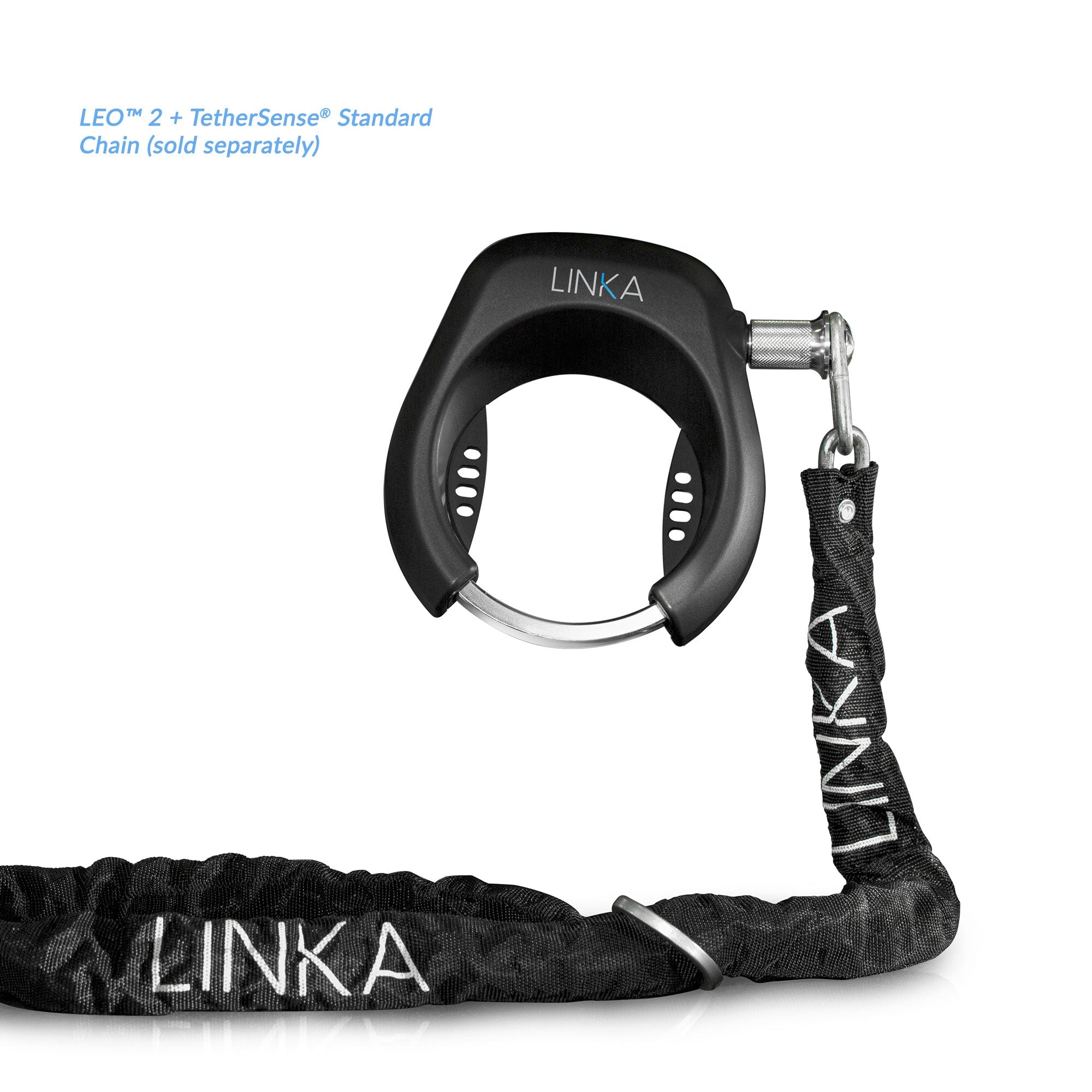 LEO 2 Smart Bike Lock
---
LINKA's second generation e-bike compatible lock, LEO 2 features encrypted 5.0 Bluetooth Technology providing convenient keyless access to your bike. A rich set of features provides instant security and theft prevention including Plug-in TetherSense©, an adjustable Auto-Lock, a triple-axis accelerometer to detect unwanted movements and 110dB siren.
Keyless access up to 10 meters

Instant lock with  TetherSense© (sold separately) 

Auto-lock for timed automatic locking

110dB siren deters thefts

LEO 2's matte-black powder coated die cast aluminum shell & square 9mm hardened steel shackle safeguards your bike from bolt cutters and saws
---
Shipping within 3-5 business days.
Return or exchange within 30 days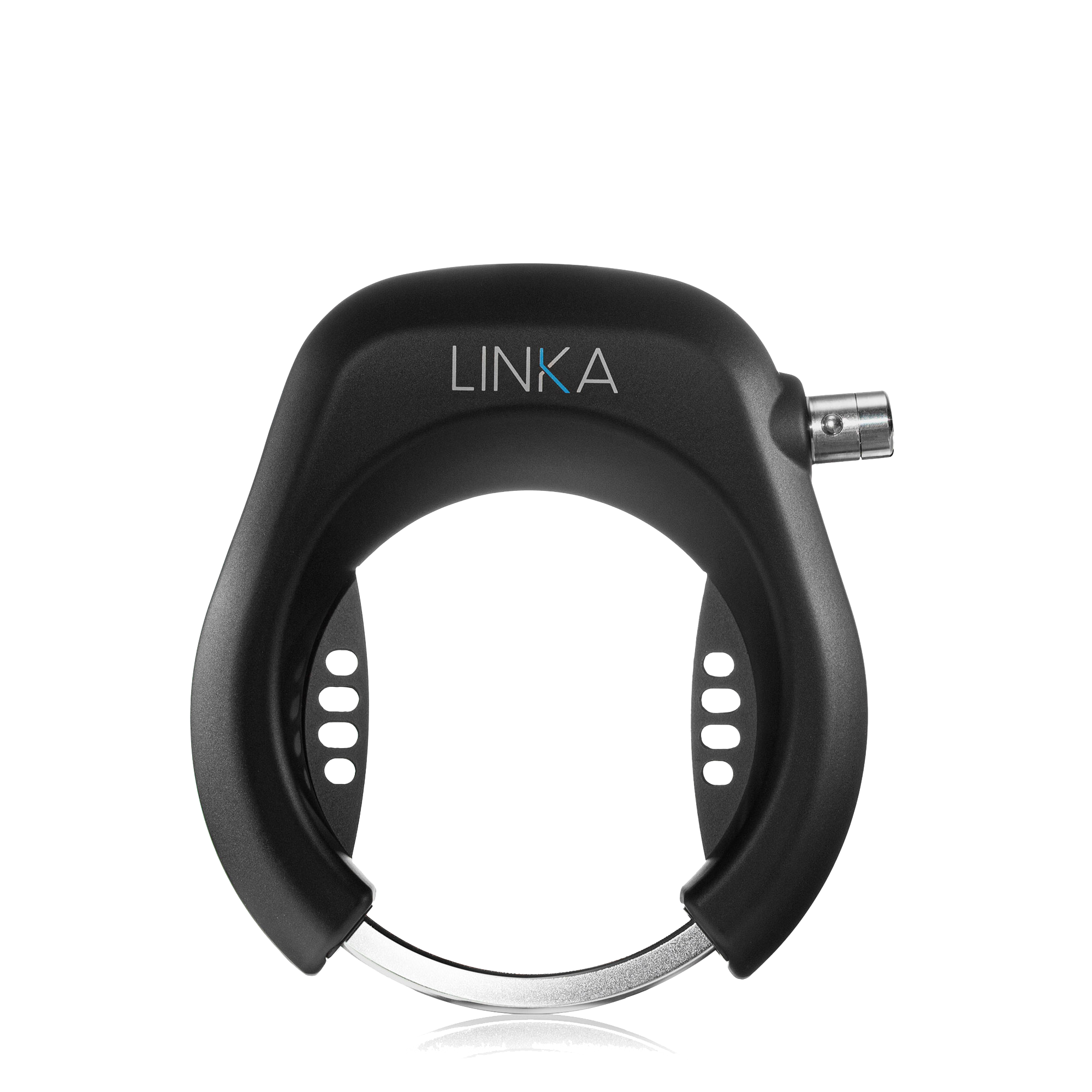 Instant lock with TetherSense©
110dB Siren
Deter thefts with 110dB siren alarm
E-bike/Solar Plug-in Ready
Read e-bike battery % or harness the sun for endless battery life.
Secure & durable
LEO 2 Pro's matte-black powder coated die cast aluminum shell & square 9mm hardened steel shackle safeguards your bike from bolt cutters and saws.
Sensor
Triple-axis accelerometer detects unwanted bike movement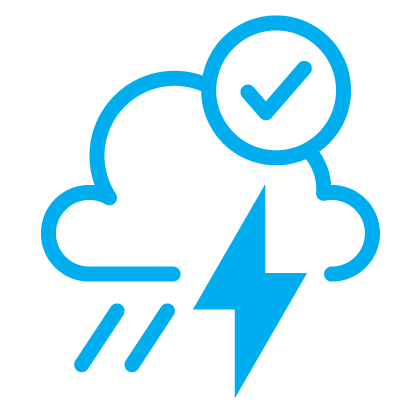 Weatherproof
IP-56 Water Resistant
60%
LEO 2's upgraded battery is 60% larger than LEO 1.
About LEO 2 Pro
Designed for e-bikes, the sleek, compact design fits even more bike frames. Fits most larger e-bike wheels and traditional bike sizes.
Size and Weight
Lock dimensions: 159 x 153 x 50mm (6.26 x 6.02 x 1.97 in)
Weight: 0.8kg (1.8lbs)
Hardened steel shackle: 68.3 x 9mm
Durable die cast aluminum frame
Color
Matte black powder coated finish
Mobile network and wireless capabilities
Bluetooth 4.2 technology ‐ Up to 30 meters (100 feet)
AES Public Key Encryption
Certification: RED, IC, FCC
Sensor
Triple‐axis accelerometer: detects unwanted bike movement
Temperature sensor: detects freezing and melting tactics
LED indicator
Operating temperature
-20°C to 65°C (-4°F to 149°F)
Weather resistance
IP56 standards (weatherproof)
Power supply and battery
Built-in lithium-ion polymer battery
Power for up to 5 months
Charging with LINKA pogo charger. 
Battery low notification at 30% and 10%
Bike requirements
Straight seat stay
Clearance of at least 50mm (1.9") wide x 50mm (1.9") high
Inside edge of rim to the outer edge of tire less than 110mm (4.3")
Width of tire less than 72mm (2.8")
See Fitting Guide for more help with bike requirements.
System requirements
Apple iOS 8+
Android 4.0+.
This product is rated 5.0 of 5.0 stars.
It has received 3 reviews.
Frequently Asked Questions
Learn more about how LEO 2 works.
Can I lock without my smartphone?

You can unlock LEO 2 without your smartphone by entering the customized 4-digit passcode provided within the LINKA app or by using the LINKA Smart Fob or SmartMotion Key (sold separately.)
What if the battery dies while the bike is locked?

In optimal conditions, LEO's battery can last up to 8 months between charges. Once the battery level is below 30%, LEO sends a warning notification to the LINKA app. LEO will not lock when the battery level is below 10%. Even with a completely drained battery, LEO will 'wake up' as soon as it is plugged in.
Can I unlock my bike remotely?

There is currently no way to unlock LEO remotely. However, you can share your bike by giving friends the 4-digit passcode provided within your LINKA app or sending them an invite via the app.
Does LEO 2 have GPS or GSM capabilities?

LEO 2 is not equipped with GPS or GSM. When you lock your smart lock, the GPS location of your smartphone is recorded in the LINKA app. If you are looking for a GPS bike lock, check out LEO 2 Pro GPS Theft Tracking Lock with 4G LTE connectivity.
Read our LEO 2 Fit Guide and view a list of bikes that are compatible with LEO 2.